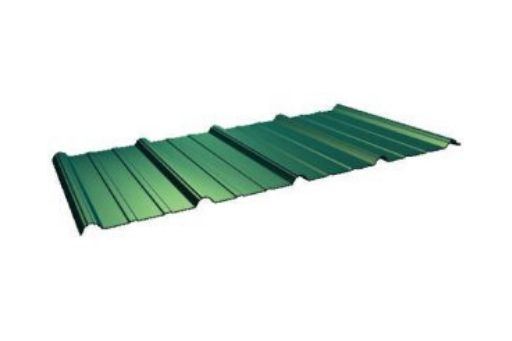 The Metal Panel Systems Premier AG Panel is a light gauge exposed fastener roof system ideal for agricultural uses, storage buildings, and canopies.   This panel allows for a quick install with simple details that makes it an economically efficient option.  The Premier AG Panel has a ¾" rib height and a coverage width of 36 inches.  Each panel contains 5 ribs that are spaced 9 inches apart.  There are also 8 stiffening ribs located on each panel to eliminate the chance of oil canning.  The Premier AG panel is roll formed, making it available in lengths up to 40 feet. 

Available in 26 GA or 29 GA galvalume, the Premier AG Panel should be installed over solid sheathing.  Both gauges are available in a variety of Silicone Modified Polyester (SMP) paint finishes with warranties available up to 30 years.  Please reference our Technical Data Sheet for additional information.
If used in residential applications, the Premier AG Panel should be installed with Metal Panel Systems Ultra HT underlayment.  This panel can be installed on roof slopes as low as 3:12. 
The ease of installation also makes the Premier AG Panel an excellent choice for soffits or wall panels.   On most buildings, waste is eliminated on soffits and walls because Metal Panel Systems custom fabricates the panel lengths instead of manufacturing them in 10 or 12 foot sections.
For more information about exposed fastener metal roofing systems, please click here.  If a watertight roof system warranty is desired, Metal Panel Systems recommends one of our standing seam metal roofing panels.
Get Started With Metal Panel Systems